Reasoning on two clinical cases: similarities but looking for differences

Introduction
We would like to present here two clinical cases with a very similar anatomical location, with a common apparent histology. One of the factors that contributed most significantly to the diagnostic accuracy was the different pattern of symptoms between the two clinical pictures, as will be discussed later.
First Case
A 60-year-old woman, with a history of endometrial cancer 3 years earlier and a goitre that was followed up for the last 5 years without complications.
During the clinical course, she presented a tumour in the anterior cervical area growing very rapidly for a month, with dyspnea and stridor.
The biopsy of the lesion was reported as "carcinoma", so the diagnosis was established as thyroid carcinoma with aggressive clinical behaviour.
Second Case
A 80-year-old woman, with no past history of interest.
She presented with a mass in the anterior cervical area that had been growing for three months. She did not present dyspnea or cough, but the presence of sialorrhea was very evident.
The biopsy of the lesion was reported as "carcinoma". In the presence of clinical data discordant with a thyroid origin, a second biopsy was attempted, but could not be performed due to the risk of bleeding for the patient.
A second report was requested from the radiologist to try to clarify the situation, and in this second radiological reading with information on symptoms (dysphagia, sialorrhea) it became clear that the neoplasm was of oesophageal and not thyroid origin.
Comparison between symptom clusters of both neoplasms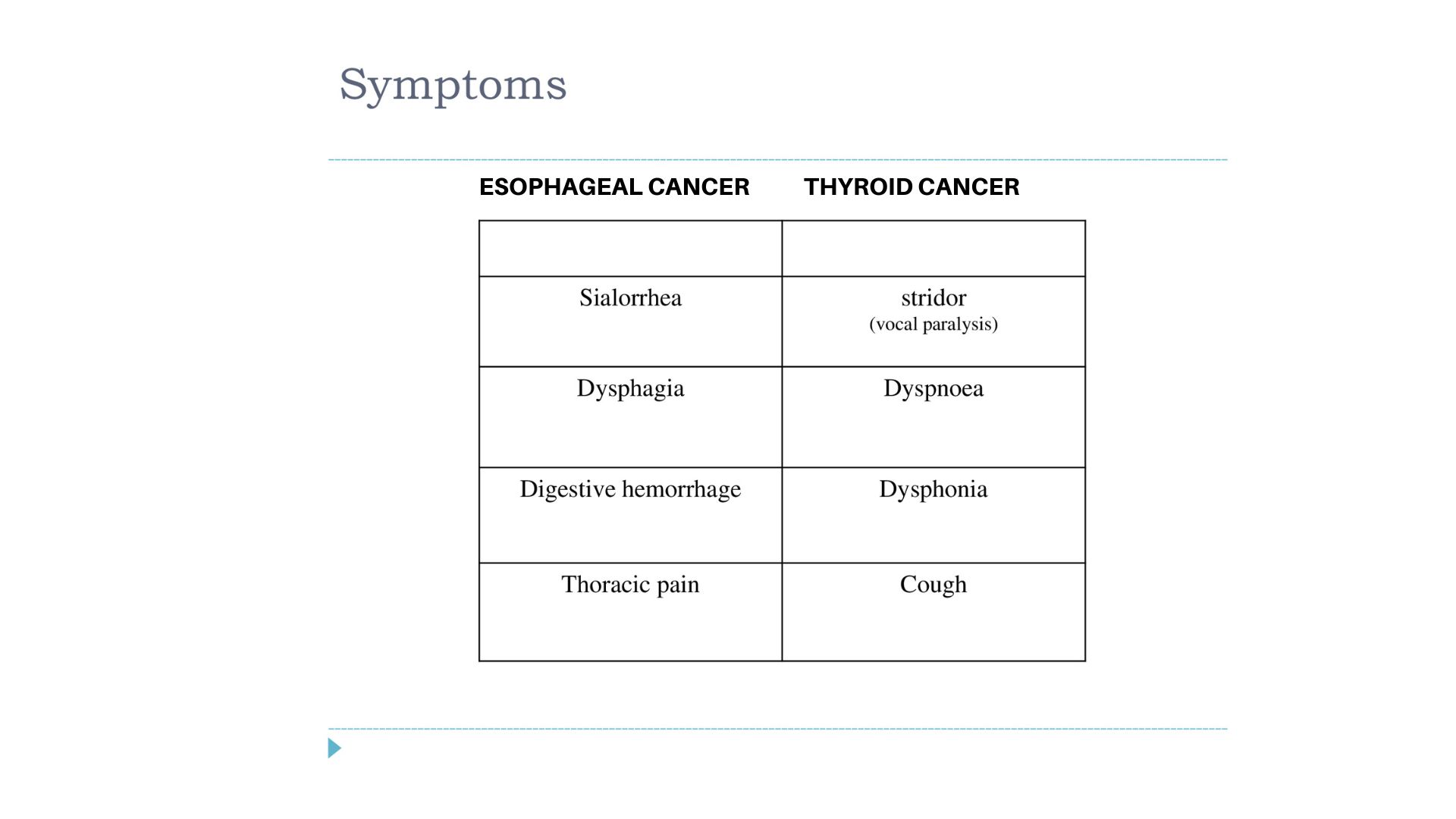 Conclusion
These two cases show the importance of an adequate collection of clinical data, knowing the physiopathology of the different entities, which in most cases allows a correct clinical decision to be taken.
Author: Dr. Lorenzo Alonso Carrión
FORO  OSLER